Newcomer Employment Services for Adults
Federal Internship for Newcomers (FIN) Program
The FIN Program offers eligible newcomers a chance to gain valuable temporary work experience and training opportunities with Canadian federal, provincial and municipal organizations.
Categories available in Fredericton:
Administrative Clerk (CR-04)
Program Officer (PM-02)
IT (CS-01)
Registration is open each year from the beginning of January till the beginning of April. To add your name to the waiting list for the next cohort please register here.
To apply for the FIN Program, you must have a post-secondary degree, except for some administrative positions where it's only an asset.
You must register as soon as possible with MCAF to get a full screening by the beginning of the next cohort.
When you apply you must:
have been a permanent resident or a Canadian citizen for 10 years or less counting from:

the day you became a permanent resident
to the day you apply

live or work in Fredericton, NB (or within a 75 kilometre radius)
You must meet the language requirements in either English or French:
You may show diplomas, transcripts or certificates from a recognized post-secondary institution to prove that your language of instruction was in English or French.
Your institution may be in Canada or abroad, and your document must:
show that you successfully graduated or completed a program in English or in French
be in English or French, otherwise, you should:

include a translation of the original document
submit a letter from the institution that proves the instruction language was English or French

If you decide to take a language course and show proof of skills through tests, you must have one of the following:

Canadian Language Benchmarks of 7 or more in each competency in either English or French
Canadian English Language Proficiency Index Program: CELPIP-G 7
International English Language Testing System: IELTS 6
Test d'évaluation de Français (TEF Canada):

310-348 in speaking and writing (expression orale et écrite)
249-279 in listening (compréhension de l'oral)
207-232 in reading (compréhension de l'écrit)

Test de connaissance du français (TCF Canada):

10-11 in speaking and writing (expression orale et écrite)
458-502 in listening (compréhension de l'oral)
453-498 reading (compréhension de l'écrit)
N.B. Only valid (not expired) certificates will be considered!
By enrolling in the program, you will be provided with all the training necessary to help you understand the process of applying to public sector jobs.
This knowledge, will also help you gain and develop all the skills needed to help you with your job search.
Training offered includes:
Job applications
GC Jobs website
The STAR Technique
Highlighting your achievements and skills
Resume building
Email etiquette
Behavioral Interview questions
In addition, practicing interview skills by attending mock interviews with HR Professionals.
The process will be as follows:
Upon registering, you will be contacted by the beginning of the new cohort to attend one of our informational sessions
Applicants will then be invited to an intake session with the FIN Coordinator and those who meet the eligibility requirements will take part in the training sessions offered
There are 2 stages in the FIN Program:

Online application stage
Interview stage

Those who pass these 2 stages are then placed in the "FIN Pool" of successful candidates and their resumes are sent to hiring managers from the public sector for internship placements
FIN Pool candidates will also be matched with a mentor for 8 months through the FIN Mentorship Program
"I knew about the STAR method but was not able to apply this technique for the interview. The mock interviews helped me be prepared when I took the real interview. The feedback from the mentors gave me an idea of how I needed to prepare prior to the interview. Through the feedback, I   prepared a lot of answers to the behavioral questions and it made me at ease and comfortable when I had the real interview"
2020-2021 FIN Applicant
"The FIN Program has truly been an eye-opener for me. The level of detail that is required on job applications is a lot more than most candidates normally provide. From the wording, matching my skills to the job and structuring my resume and application letter to each opportunity has been a game-changer. I particularly benefitted from the mock interview and coaching from a FIN Program Alumni member and even got a different opportunity before the end of the program. The FIN Program is valuable job-search skills that go well beyond government internships. I would strongly recommend this to all newcomers for sure!"       
2021-2022 FIN Applicant
"For me, the FIN program was an extremely positive experience. The program helped me to introduce myself through the Canadian professional style. While applying for a government job can be challenging, the FIN program helped me ace it. I also acknowledge the valued networking, which the FIN program opened the doors for me to connect with through inviting guests and organizing mock interviews."       
          Hanan Othman, 2021-2022 FIN Applicant
On arriving in Fredericton, New Brunswick, Canada, I had an interest in joining the Federal Internship for Newcomers Program (FINP) but no idea how to apply for government jobs. Never could I have imagined the exceptional training and professional support that the FIN program would provide. From the intake screening, to the written application, to the video interview, the coordinator Eman Elgamal and her professional contacts in Fredericton did much to help our cohort prepare. We had frequent meetings prior to the written application, and those meetings were followed by mock interviews with executives from the Maritimes who volunteered their time to offer insightful advice and feedback.
These combined efforts paid off. In particular, I learned how to scrutinize my application from the perspective of the Canadian government, not the private sector, and that skill is invaluable because the government has a particular way of assessing applications. As well, I learned new resume-writing skills and new lessons about Canadian workplace culture, which is truly different from that of other countries where I have worked before. As a result, I passed the written application and went into the behavorial interview with a clear understanding of how to show evidence of competencies using real-life examples from work, school and life.
But those results are not all. The FIN program also broadened my professional network in Fredericton and the Maritimes. Through FINP, I was introduced to the Multicultural Association of Fredericton (MCAF), which offers a range of services such as professional training programs, intellectual enrichment opportunities, job coaching, social gatherings and settlement support. As well, I was introduced to successful Canadians in the Maritimes who are encouraging and inclusive of immigrants. Thus, thanks to FINP and MCAF, I have gone from being a newcomer with almost no local network or affiliations, to a community member whose week is full of professional and intellectual activities with others.
In short, the program offers excellent professional training and strengthens newcomers' relationships to Fredericton, the Maritimes and Canada itself. I unreservedly recommend it. Ms. Elgamal has created such a well-rounded series of workshops that consider applicants' every professional need, and she was always at the end of an email. She even remained "on-call" for the entire weekend that FIN applications were due. I am enriched and very grateful for the opportunity to have participated in this excellent program and could not have been better prepared for each assessment.
I send a huge "thank you" to the FIN program, MCAF and Immigration, Refugees and Citizenship Canada (IRCC).
                                                                                             Brittany Muffet, FINP Candidate 2021-2022
The Federal Internship for Newcomers Programs (FINP) helped me get my foot in the door
"This FIN program has been launched since 2020 in Fredericton, New Brunswick and was new to the FIN-partner immigrant-serving organization (ISO) which is the Multicultural Association of Fredericton (MCAF) and candidates. In addition to this, the pandemic has started since I joined this program.
The unforeseen situations made the delay of the process than we expected but I was one of the successful candidates who went through all the processes and was luckily placed in the Government of New Brunswick as an intern. After I got the internship opportunity, I kept trying to find opportunities internally in the government and ended up being a place where I want to be in the provincial government.
With the excellent support of the FINP coordinator at MCAF, I was able to make it. The program coordinator was there for us to support and encourage us to go through all the steps.
Through the FIN program, I have learned a lot of skills and knowledge which are necessary for people who want to work for the federal and provincial governments. I was able to apply the skills and knowledge that I have gained through the program to my new job in the province when I was hired.
Through this program, I was able to get my foot in the door and it opened my door to get to the place where I am now. Even if I am done with my internship, I am still able to access all the benefits from the FIN program. Furthermore, I have a mentor who helps me pursue my career goal and guides me on the right path.
I strongly recommend newcomers, who want to have experience in the public sector, to participate in the FIN program. You would be provided all the supports from the program coordinator and Immigration Refugees and Citizenship Canada (IRCC) and would have opportunities in the public sector.  No matter whether you are screened in or not, this program will help you build your skills, knowledge and networks for your dream in Canada.
I greatly appreciate all the team members of the FIN program at IRCC and the coordinator at MCAF who helped me make it. "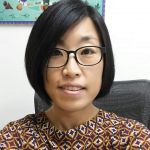 Sungmi Song, FIN Alumni 2020-2021
Federal Internship Program for Newcomers, a pathway to the Public Sector
"My FIN journey started last February 2020, when I attended the first information session instigated by Multicultural Association of Fredericton (MCAF). I don't have any idea what it is all about and what great opportunity it will bring to me. It never crosses my mind that it will open for me a huge step up in the Canadian Labour Market.
The MCAF FIN Team was very approachable and helpful throughout the process. They have conducted several workshops to boost the skills, build confidence and define the value proposition of their candidates. Their support was remarkable, they do follow-ups and even became my personal reminder. I would like to thank personally, Eman Elgamal who believed in my capabilities and serve as my mentor and coach for this process. Without her, I will not have reached this stage. I will be forever grateful for her patience and guidance.
With their dedication, I was inspired and motivated to achieve my goal and passed the FIN selection process. Last January 2021, I got my placement with the government and it was a huge achievement. I was given an opportunity to increase my awareness of the benefits of diversity and inclusion within the Canadian workplace, to contribute and take part in a project, work-life balance, most especially I have met a supportive and incredible colleague.
Being a FIN Intern, you will have a huge opportunity to boost your interpersonal and professional skills. I had the privilege to attend their training sessions facilitated by the Ottawa FIN Team which includes: Introduction to the Canadian Workplace, Soft Skills in the Canadian Workplace, Behavioural Competencies, Conflict Resolution and Positive Space Awareness. These sessions serve as a guideline to help all FIN interns to have depth knowledge of the Canadian workplace and be part of the integration. Another benefit is you will be matched to a mentor who is working in the public sector who will guide you to achieve your long-term career in the government.
To all newcomers, I strongly recommend participating in the FIN Program and become a FIN intern as this will give your leverage to enter the Canadian workforce."
Marie Valenciano, FIN Alumni 2020-2021