The Multicultural Association of Fredericton (MCAF) is the Provincial Partner of two national level pre-arrival organizations (Planning for Canada and Active Engagement and Integration Project). MCAF offers free pre-arrival services to clients who are referred by these two pre-arrival organizations to help their smooth transition prior to arrival. 
Our team connects with newcomers before they leave their country of residence to give them the preparation they need to have a successful integration in New Brunswick and the workforce. 
For more information please contact us at Pre-Arrival@mcaf.nb.ca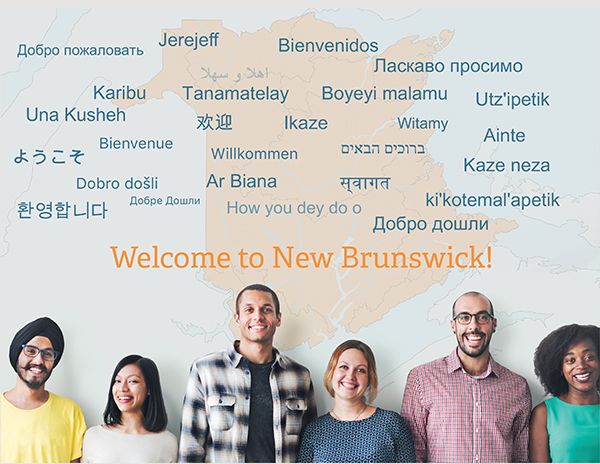 Prioritize tasks that need to be done before and after your arrival in Canada 
Answer questions on settlement, employment, credentials, and community services etc.
Make connections with the right person and organizations such as immigrant serving agencies, school, regulatory bodies, professional associations, government etc.
Legal rights and responsibilities in Canada

Settlement services at no cost

 after you arrive such as language classes, workshops, and youth programs

 

Financial, housing, and schooling contacts
Foreign Qualification Recognition (FQR)
Access to specialized online information sessions and workshops
Planning for Canada (PfC), funded by Immigration, Refugees, Citizenship Canada, provides pre-arrival services to economic and family class immigrants before coming to Canada. We – Multicultural Association of Fredericton Inc. – are happy to be part of Planning for Canada as Provincial Advisors to help immigrants prepare for their move, settlement and employment in Canada.
Olubukola Abdul's One-Tip
Vaibhav arrived during the pandemic. He applied the info learned about employment and Canadian resumes during Planning for Canada's sessions. "I landed at 9am and my first interview was at 1pm the same day," he says. Preparation is key!
The free services offered by Planning for Canada will complement your own research about life in Canada. You will meet 1-on-1 with an experienced facilitator, create an Action Plan and be connected with an Advisor in your city/town of destination.
READ MORE »
Olubukola is thankful for the support she received during Planning for Canada's sessions, especially regarding her priority: schooling for her kids.
READ MORE »
Vaibhav and Sanvi's One-tip
Resume and job preparation can start well before you immigrate to Canada. That's something that Vaibhav and Sanvi learned thanks to Planning for Canada's services.
Komal immigrated a year ago. Once in Canada, she networked with people, volunteered and found a job! Planning for Canada's pre-arrival services helped her create and follow a tailored Action Plan.
Komal immigrated from India in March 2020. She applied all that she learned during Planning for Canada's pre-arrival sessions to #ArriveWithConfidence. She followed her Action Plan, volunteered, networked and landed a job! Read her story.
READ MORE »
Jennifer Pacquing's One-tip
Gurleen, from India, says that Planning for Canada helped her have a realistic view of the country and "set employment and settlement goals. All at no cost."
Gurleen moved to Canada during the pandemic with a roadmap. @Planning for Canada provided her with realistic expectations in preparation for her immigration and integration journey. You too can #ArriveWithConfidence. Read Gurleen's story.
Pre-arrival support helped Jennifer #ArriveWithConfidence. She reached out to Planning for Canada right after she received her visa. "I'm grateful that their team provided me with the necessary assistance, information and resources to fully prepare myself to start my journey".
READ MORE »
Sandiya Farzeen's One-tip
Pramod Bhargav's video-tip
Sadiya encourages immigrants to use the free pre-arrival support available to #ArriveWithConfidence. Through Planning for Canada's services, she was connected to the best resources that helped her immigration journey become easy a more fruitful.
READ MORE »
"I'm happy I took Planning for Canada's services… There is no reason why one shouldn't sign up. We benefited a lot", Sadiya says.
READ MORE »
Pramod learned about the importance of Bridging Programs for Internationally Trained Professionals through Planning for Canada's services.
READ MORE »
There are a lot of unknowns when moving to a new country. Planning for Canada's pre-arrival services prepare you for what to expect in Canada.
"Despite arriving during the pandemic, I was able to adapt quickly because of the time spent in pre-arrival preparation… it's going great," says Jo Anne. Read her story to learn from her experience!
"Being prepared is the best that you can do," says Jo Anne. Thanks to Planning for Canada's pre-arrival services, Jo Ann learn about job search, accessing services, and finding accommodation online during the pandemic.
There are many unknowns when moving to a new country. Viral could #ArriveWithConfidence thanks to Planning for Canada's pre-arrival services. It is important to have realistic expectations.
Work on your resume, apply for jobs and prepare for interviews even before you arrive. Listen to Vaibhav sharing tips for new immigrants.
READ MORE »
Immigrating has its challenges. Prepare for your new life, be patient and enjoy the process. Listen to Gurleen sharing tips for new immigrants.
Understanding and adapting to the job market, learning new skills, volunteering and networking are key for successful integration into Canadian society. Listen to Komal sharing tips for new immigrants.
READ MORE »